The RockyCard is your student ID, building access card for your dorm, on-campus debit card, and method of payment for Brown Hall. If you are hungry, you can stop by Brown and use your student ID card to pay for a meal, or take it to the bookstore and get some UNCA merchandise!
See how you can print using your RockyCard here, and don't forget to checkout the Student Handbook for RockyCard!
The RockyCard portal is where you can upload your RockyCard photo, manage your print funds, and add general funds to your card. You can find your portal here!
---
New Student
If you are a new incoming student, Upload your photo by clicking the More tab in the menu on the left,
then click Upload Your Photo and follow the instructions.
RockyCard Office
The RockyCard office will print your RockyCard for you to pick up when you move into your on-campus residence hall or attend Embark Orientation.
The RockyCard Office is located at the front desk of Governors Hall at One University Heights, CPO #1285. If you have questions about the RockyCard or need a new or replacement card, just stop by the office during regular business hours (Monday-Friday, 8am-5pm). No appointment is necessary!
---
To add funds, click on the "Add General Funds" tab on the left.
After clicking on the tab, fill out the requested information and choose how much you would like to add to your general fund.
---
Adding Funds For Your Meal Plan
To add funds for your dining at Brown Hall, you can go to https://dineoncampus.com/unca/ and follow the instructions on the screen to recharge your RockyCard!
You can also check out today's menu, nutritional information, and how long till your favorite dining option opens!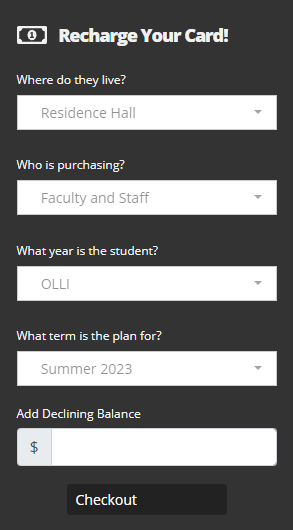 Then click on "Checkout" and provide the requested information to complete your purchase! Now you are all set to use your RockyCard for meals!
RockyCard contact info