Keeping Zoom updated on Windows devices
To keep your Zoom Meetings secure, the Zoom application is frequently updated with important security fixes.
Here's how ITS keeps Zoom updated on your university-owned Windows Device.
Steps
New versions of Zoom will be made available to your Windows device after release by Zoom Video Communications, Inc. Your Windows device will not automatically install the newest version of Zoom. You will need to use Software Center and install the latest version. Installing the newest version will uninstall any previous versions of Zoom from your computer.
Open Software Center by clicking the magnifying glass in the bottom left of your screen and typing "Software Center" then hitting Enter.





You will see Zoom as one of the top items.


Click Zoom, then click Install.
Once it installs you will receive a popup saying that your new software has been installed.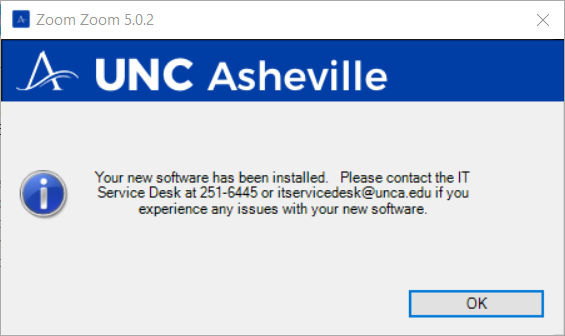 The newest version of Zoom is now installed and all previous versions are removed.
If you do not see Zoom in Software Center, or have any questions, please contact the ITS Service Desk.