Determining Latest Software Version Number
Purpose
Zoom regularly provides new versions of the Zoom desktop client and mobile app to release new features and fix bugs. Zoom Help Center Support for new features and functions will often indicate the minimum Zoom client version necessary to utilize these features. ITS managed resources (computers and devices) require the use of campus self-service portals to upgrade Zoom software versions, while personal computers and devices may utilize the Zoom Download Center for software updates.
Below is an example of the minimum Zoom software requirements for a Zoom Meeting function.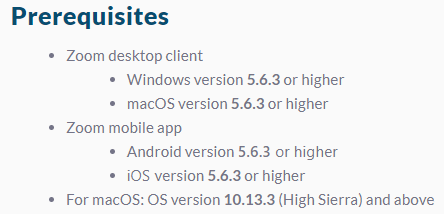 ITS recommends upgrading to the latest version once it is available to ensure the secure functionality of all scheduled, or attended, Zoom events. The use of the below articles will provide contextual assistance for determining the version of the Zoom desktop client or mobile app available on clients computer or device.
Viewing the Zoom version number
Individual Zoom Meeting licensed account users may sign into the Zoom Desktop Client and determine what Zoom software version is being utilized. Full instructions for accomplishing this process are available via the Zoom Help Center support document 'Viewing the Zoom version number.
Click here to access the 'Viewing the Zoom version number' Zoom Help Center support article
Please note that the ITS Software Center and Self Service Zoom Meeting updates can only occur if the Zoom Meeting application is closed and the client signed out. If the Zoom software is detected as being 'open', the Zoom Meeting update will not occur as the client may be involved in an ongoing class or event.
Issues with ITS supported resources should be communicated with ITS help desk staff via the helpdesk@unca.edu email portal.
Help Articles
Zoom 9-month release waiver information
Once implemented, Zoom Meeting users will be prompted to update their software if their Zoom software version is more that nine months behind the current version at any given time. This practice will ensure that Zoom users receive the latest Zoom features, as well as any privacy and security enhancements Zoom Video Communications makes to the platform.
Zoom Video Communication provides routine product upgrade information for all software and hardware platforms. Specifics regarding individual products, and related upgrades may be found Click here for Zoom Help Center information regarding upcoming Zoom product/platform release notes.
Note: Only Zoom Communication and Google Workspace Meet web-conference platforms are fully supported by Information Technology Services staff. ITS support for all other third-party web conference systems (Bluejeans (Verizon), Cisco Webex, Microsoft Teams, and Skype), are limited to application specific downloads to ensure that campus users have access to the latest required software. There are no campus accounts available for use with any 3rd party software and users are directed to contact the available user support services for any technical support issues.
Resources for assistance or followup questions and concerns.
Contact UNC Asheville's Information Technology IT Service Desk for assistance in implementing the above described services and support. Email: itservicedesk@unca.edu or by calling 828.251.6445
Contact UNC Asheville's Center for Teaching and Learning unit for pedagogy and teaching strategies regarding this knowledge base article. Email: ins_tech@unca.edu. or by calling 828.251.6540
Use the Zoom Video Communication system knowledge base for Zoom meeting specific support questions or concerns. www.zoom.us/support